Proven Litigator and Trial Lawyer Specializing in Criminal Defense and emphasizing Personal Injury Cases
John Trebon has been practicing law in Flagstaff for more than fifteen years. The focus of his practice is on personal injury, wrongful death, criminal defense and civil rights.
Our mission is to provide high quality, vigorous representation, but at an affordable, competitive price. Our motto has always been that "we will stand up for your rights." We will not only stand up for your rights in court; but also by treating you fairly with reasonable fees.
John Trebon is a certified specialist in criminal law by the State Bar of Arizona. He began his career as a state public defender in Tucson, Arizona, trying and winning numerous jury trials. He then became a federal public defender, not only trying and winning cases; but also writing numerous appeals. As a result, Mr. Trebon is familiar with both state and federal laws and procedure, as well as, both trials and appeals. A good trial lawyer leads to a good appellate lawyer and vice versa.
Over the years, Mr. Trebon has conducted dozens of jury trials in both state and federal courts. He has also negotiated and settled hundreds of cases in favor of his clients.
Meet the legal team with years of personal injury experience that will bring you the justice you deserve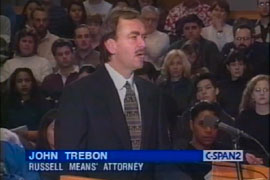 John Trebon
Mr. Trebon has written and argued numerous criminal and civil appeals before The Arizona Court of Appeals, The Arizona Supreme Court, the Navajo Nation Supreme Court, The Federal Court of Appeals for the Ninth Circuit, and the United States Supreme Court. He has had the privilege of briefing and arguing two cases before the United States Supreme Court, Duro v. Reina, 495 U.S. 676 (1990) and United States v. Hadly, (1991). You may actually listen to John argue both cases before the U.S. Supreme Court at www.oyez.org.
Client Testimonials:
Thank you for your professional services and legal advice.